The Home of Napa County Democrats: Who We Are
Join us for our next upcoming events!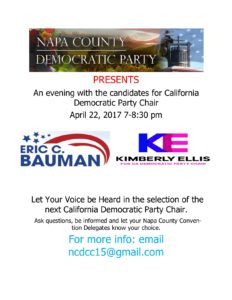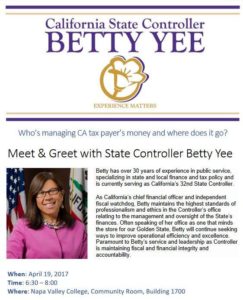 The Napa County Democratic Central Committee ("NCDCC") is the official arm of the California Democratic Party in Napa County. There is a similar central committee in each county of the state. The members of the NCDCC are represent the Napa County Supervisor District they reside in and are elected in the primary every two years.
Additionally, there are several chartered Democratic Clubs throughout the county. We are the Democrats of Napa Valley Club, the Latino Outreach, American Canyon Democratic Club, and the Napa County Young Democrats. 
We care for senior citizens, the environment, affordable education, health care for all, and equal pay for equal work. We are your neighbors, co-workers, your children's teachers, members of the LGBTQ community, young Democrats, Napans, Californians, Americans, Immigrants. We are registered voters. WE ARE DEMOCRATS.
Our goals are to advance Democratic values and elect Democratic candidates to local, state, and national offices. We do that by endorsing candidates in various elections, fundraising, campaigning (precinct walking, calling, mailing, etc.), attending the state party conventions, recruiting candidates, and any other way that we can think of. 
---
Posts From Our Local Democrats
News from your representatives: